How To Install And Set Up Remix OS To Run Android On Your PC? – Nowadays many of the people around the globe loved to use Android series devices and very much Fond of it. If you a real fan of Android then you always desire to develop your computer and laptop into that one as well and wants to find a way for that, then there is pleasing news for all the Android user. As in with the help of new site named Remix OS you can effortlessly transform your computers and laptop into the Android ones and can have a new operating experience.
Remix OS is one of the most prominent sites and is also getting more popularity because of it features, which is worth for the user who wants to operate there PC or laptop into another different level or With an Android system. Remix OS is an Android-based operating system and is newest in the Technological market as well. With the help of this, you can get the terrific experience of desktop and mobile in one go.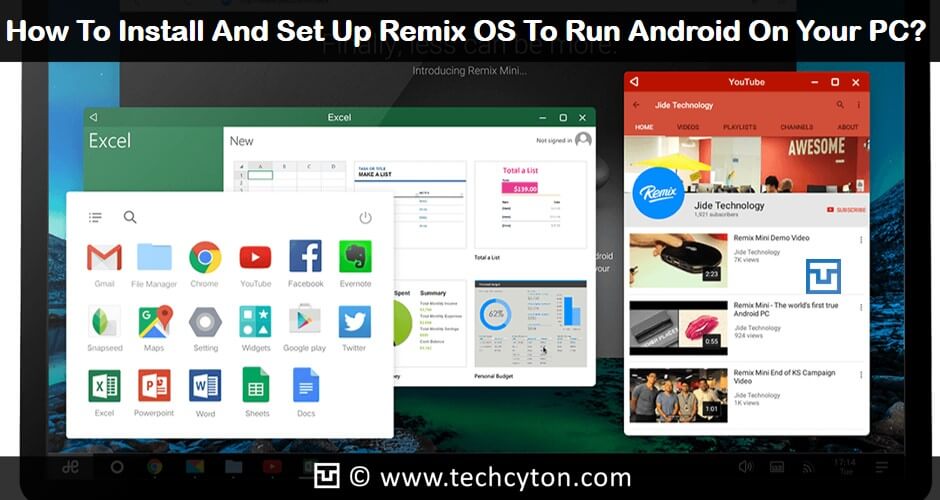 Remix OS seems to give its user a control multi-window support, or you can say it helps for the Multitasking purpose. That means you can use each and everything like you can work on the presentation in the office, or you can make calls, or you can Skype, and you can conduct research on the Browser at all the same time. The various other advantages of this site are as under;
See Also: How to Download Bluestacks Android Emulator for Windows PC
It is considered as the world's most advanced File manager on Android.
It is also compatible with an office with the easy access to Android platform.
With the help this site you can easily use the Play Store and can download your favorite apps And discover new ones as well.
In January, it was officially launched.
One of its remarkable features is that it can be easily installed on the USB stick and plugged into any computer.
Apart from this, it has several other features as well. This site works great to transform your PC In another operating system. With that you required to have some of the important things in the PC like Torrent downloading client, Remix OS USB installer, USB 3.0 stick with at least 8GB, so that the process of downloading and installing go smoothly. If you are someone who was looking forward to booting the Remix OS on your computer system, then the following information will help you out.
How To Install And Set Up Remix OS To Run Android On Your PC?
Remix OS is something that brings the lovely Android Experience to your computer system as it is thoroughly different from the already existing Emulators. If you want to download this amazing site to your computer then the following steps will help you to know how to install and download it;
STEP 1- Firstly you have to download remix OS 2.0 Torrent Client as it will freely download the appropriate site without any difficulty.
STEP 2- Than downloads the Remix OS and USB installer, you can get both of them from the leaked site or with the official site which has been already launched in January using the original one would be far better.
See Also:
STEP 3- Before downloading this site firstly you have to create a backup of your all important stuff in the HDD so that after rebooting your desktop it will not ruin your salient information.
STEP 4- Than you have to format your USB device and to change it to the FAT32. It will make the USB empty and the format in which the Remix OS is required.
STEP 5- Next, you have to install ISO file. (Downloading ISO file directly into the PC is just wastage of time as in it, later on, ask for USB bootable)With the help of Torrent file, you can easily have this file as it offers several USB Tool. So this tool reflects the OS to USB drive and makes the bootloader.
STEP 6- Afterward you have to add the ISO file to The USB tool . You have to select the file of the Remix OS; this will begin its working, but the process will take some time as it relates to copying files.
STEP 7- After all the download process, you have to reboot your device but before that, you have to select combinations of the key which you will use to get the boot menu.
STEP 8- After selecting the fixed combination of keys, reboot your device and open the boot menu with the help of selected keys, click for the 'Remix OS installed on it '. After that, the screen will get turn blue which symbolizes that you are on right track.
STEP 9- At last you have to select the mode of installation. There are two modes of installation the first one is Guest Mode if you select this option no data will get save after each session. And the second mode is the Resident mode; with that, all your data will get save after every session
That's it you are done. Though the process is lengthy, it is the best and the easiest way to download and install the Remix OS. The above-mentioned steps will surely help you out. Remix OS is one of the sites you have never seen before because of it peculiar and flexible features that attracts a lot of users to grab it. So that's all about Remix OS, how to download it and what its unique Features are. Tell us if the Information mentioned above worked for you? If you have any trouble and doubts in following the steps mentioned above, then please feel free to question over here.
If you are successful in downloading and installing Remix OS on your PC, then don't forget to give your part of helping your friend by sharing this post with them.