How to Download and Install Instagram for Blackberry? – Nowadays people are extremely obsessed with a new application, devices, and technology. Throughout the ongoing years technology always used to amaze people with a unique innovations and discoveries. With the new innovations in the technology all want to explore it to the core. As the paragon of technology is Blackberry headset has proved its heights, it is considered as one of the major smartphone vendors across the world. By coming in the lead of best seller phones, it has proven best to its user by providing a different experience while operating the device.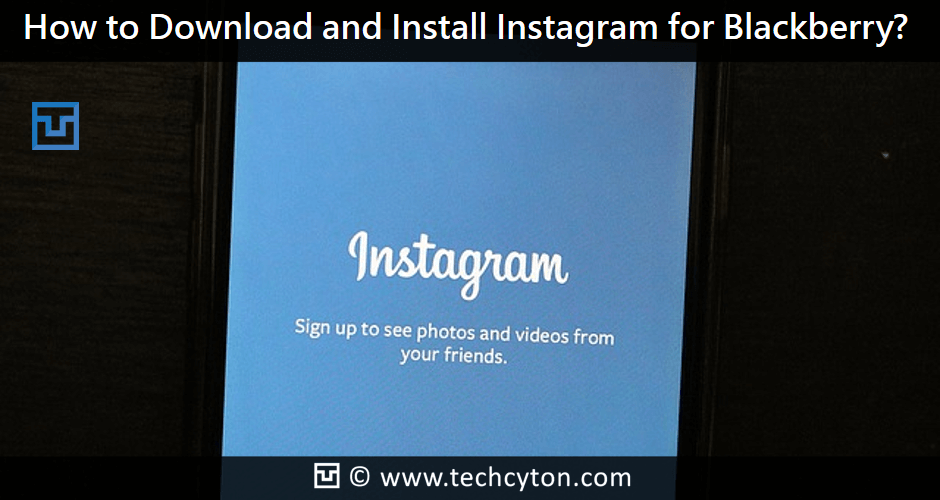 Having abundant of features and having a well-maintained goodwill in the market, there are some drawbacks which usually a user faces i.e. the earlier BB series a device doesn't operate on android platform. BB series is based on QNX a Unix-like operating system . This denies the user to download the android based app from the google Play. So coming in the fact that due this problem, we can't able to download Android based app and in which Instagram is in the list. "Social media is the ultimate equalizer.
It gives a voice and platform to anyone willing to engage"- Amy Jo martin. The mentioned quotation is quite perfect as in nowadays social media has given everyone a platform in order to embrace their talent. Instagram is an also a perfect example of it, Instagram is an online photo-sharing, video-sharing, and social networking site which enables the user to share its stuff with the public and with other sites as well, like Facebook, twitter and so on.
See Also: How to Stop Google and Facebook From Tracking Your Location
With the help of it anyone can share their photos and videos indeed they also get a chance to advertise their products, blogs, and other things now the questions arises that How to install and download Instagram for Blackberry? As many of the people opt BB series device because of its unique feature, it becomes quite uneasy to get this app on the device itself. One always wants to get the app for fun but the users get disappointed because BB series doesn't work on the android platform i.e. one can't get the android based app on the device as it doesn't work properly.
How to Download and Install Instagram for Blackberry?
Instagram is quite creepy to get on blackberry devices. Every user of blackberry devices wonders that how to get through the app. so one has to download this app in another way to grab the fun.
See Also: How to Download Bluestacks Android Emulator for Windows PC
The users who are using Blackberry 10 they are quite lucky as from that OS onwards the users can easily have their apps as it works on Android platform i.e. one can easily download the desired app from the Google Play Store itself. But who doesn't using a headset of that OS can also get the app without any due difficulty. For that one has to follow the given mentioned steps which are as under:-
STEP 1: Firstly you have to get the raw file for Instagram. (As google play app doesn't work properly on Blackberry series device.)
STEP 2: Head on to the inbuilt Brower of your device and search for Instagram (APK files serves best for the purpose to get the app In another way so it is important that u should have that already installed on your device)
Download Instagram APK Version 7.16.0
STEP 3: After getting the app with the help of the Browser page, choose to download the link in order to get the app.
STEP 4: Than after getting the link follow the installation process. Wait for the successful installation.
That's it you're done. After installation successfully you are good to go and can use the app perfectly. These were the easy steps to get through your application without any trouble in between. This method works effectively and very effortless to use as well. Downloading Instagram has been a problem earlier for the Blackberry users and this made lot of the users not to be interested in using the Instagram. They were devoid of getting android apps. As these android apps doesn't work properly on the device.
See Also: How to Delete my Skype Account Permanently
If you are a part of those using blackberry series devices and are not able to get the app than for sure the above-mentioned method will be the best in order to get your Instagram app with any due difficulty and effortlessly. Now you have the way to get through your app and easily can grab fun on Instagram. Tell us know if this method worked great for you? If you are getting any kind of trouble by following the above-mentioned steps in the method then please do ask your queries and doubts over here.
If you are successful in downloading and installing Instagram for Blackberry easily with the above-mentioned steps, then don't forget to give your part by helping your social folks by sharing this post with them.