How To Create a USB Flash Drive to Install Windows 10, 8, 7? – Hello guys, how are you? I am again here and this I will tell you that how to create a USB flash drive or Pen Drive installation friendly of Windows 10, 8, 7? This is very necessary to know that how to make a USB Flash Drive bootable so that we can use it as a Windows Installer in PC because the guys in present day we all want to make easy things and no one want to carry a DVD for windows installation.
Even many others clearly give instructions that they do not need any DVD writer on their PC or laptop. A DVD writer can make your laptop heavy. So generally, guys don't want it. Now the problem comes arise when they lost their windows or while it crashes accidently.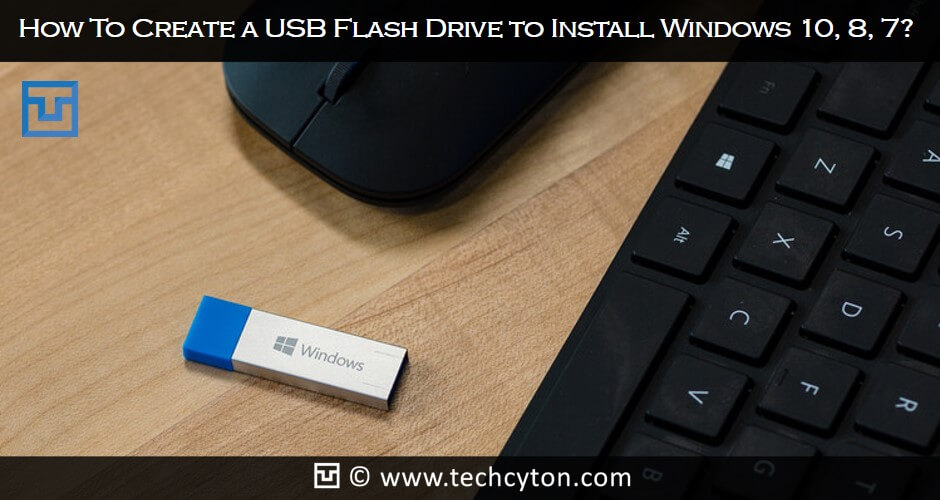 The solution for this situation is that you just need a Pen Drive and use it as Windows Installer. Here is the detailed method by which you can create your pen drive bootable friendly.
The general need for this is you should have a USB Flash Drive of at least 4 GB storage. Guys try that the Pen Drive you are using should have higher speed, so for this use high-class Pen Drive. The secondary thing you need for this whole process is that an ISO file of Windows 10 , 8, 7. You can easily download this from the internet. I think both these things are there with you, so let us start the process.
How To Create a USB Flash Drive to Install Windows 10, 8, 7
But first let's discuss the advantages of this process
Easy process anyone can do it with simple processes.

You don't need to carry any DVD with you.

You can make it anywhere, just with the help of internet.

No harm to your Pen Drive, after the whole process, you just need to format your Pen Drive and you can use it again as storage media.

No need to have a DVD Writer on your PC or Laptop.

As high version you are installing with this, the as much low time it will take to complete the process.
Methods to make your USB Flash Drive a Bootable Drive
Method 1 – with the help of Microsoft USB Tool
You just need to download the Windows installer tool from the Microsoft store. After that, just simply follow these steps.
Step 1: Format Pen Drive – guys this is the initial step you need to follow because during this process your Pen Drive does not have any data if there is any data it will create a problem during the windows installation.
Step 2: Open the tool – the Windows Installation tool which you earlier download, click on it.
Step 3: Choose ISO file – the first you need to do with the software is you need to give a path to the software of your ISO file. Basically, you need to choose your ISO file.
Step 4: Choose media type – in this process, you need to choose the media type, whether you want it in your DVD or in your Pen Drive.
Step 5: select Pen Drive – you need to select your Pen Drive.
Step 6: start copying – after the selection of Pen Drive you need to start the copying process. When the copying is done, then it simply means that you can use this Pen Drive as an installer on any PC.
Method 2 – with the help of Command Prompt
You can create your USB Flash Drive with the help of Command Prompt too; also, in this case, you don't need any software tool.
Step 1: Open Command Prompt window. For this, you can search by "cmd".
Step2: Just after a command prompt opening, you need to type a command that is "diskpart".
Step 3: After this, you need to type the next command which is "listdisk". After this command, you will find a list of all HDD (hard disk drives) and all the storage drive, which are attached to your PC.
Step 4: You need to select your USB Drive with the command "select disk X", where the X denote your USB Drive name.
Step 5: Use the command "clean" to clean your USB drive.
Step 6: You need to create a partition in Pen Drive and for this, you need to use the command "create partition primary".
Step 7: After that you type a command "select partition 1", this will select your partition in which you will further copy your windows.
Step 8: Use command "active", this will active your partition.
Step 9: Use command "format fs = fat32 quick" and this command format your pen drive. You need to wait for completing this process.
Step 10: You need to use "assign" command that will assign a drive to your Pen Drive.
Step 11: Copy the extracted content of Windows file which you want to install in PC, No matter whether it was Windows 10, 8, or 7.
Now, this whole process makes your USB Flash Drive a bootable drive. It is ready to use. Now you can install a window in any PC or laptop until you will format it once.
How to install window with the help of this
You need to insert your pen drive first. After that, you need to select BIOS setup on your PC. After that, go to boot menu and select your pen drive as a bootable device. After this, it will automatically install the windows on your PC.
Conclusion – in the final I only want to say that in this technical and digital world, there is nothing needs to worry. If you do not have Windows DVD or your DVD Writer is not working, just keep calm and try to solve your problem with the help of internet. You can choose any method to make your USB Flash Drive as a bootable drive. Whichever method you find suitable you can use. Just need the internet for download the utilities and everything are possible. In the last enjoy these methods guys and install windows on your PC or laptop.