How to fix iPhone Keeps Restarting Issue? – There may be times when your iPhone keeps restarting every now and then and you may be ignorant to fix the problem. All of us want our iPhones to work all the times. The restarting of iPhones may not be due to any particular reason
Here we can see the causes that keep iPhones restarting and how to fix the issue without much hassle. The following types generally keep restarting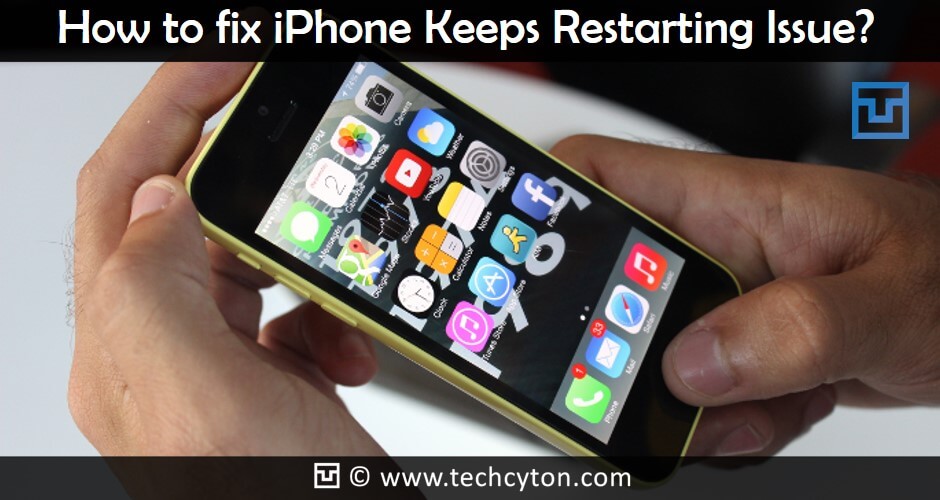 Your iPhone will show no problem sometimes, but you can see it suddenly restarting
Your iPhone might have stuck in a restart loop means the iPhone continuously restarts for no reason and becomes totally unusable for a while. The Apple logo sometimes appears and sometimes disappears.
If the phone you use to fall into the second category, you may not be able to do the first few steps, then you can skip stepping no 5 to fix the problem.
See Also: How to Disable/Turn OFF Auto App Updates on iPhone, iPad
How to fix iPhone Keeps Restarting Issue?
Step 1 – You can backup your iPhone: Make sure your iPhone is properly backed up. If the iPhone faces any hardware problem, this may be last chance to backup the data. You need to backup before you restore the data.
Step 2 – Update the iPhone's Software: iOS is your iPhone's operating system. It can be a lack of software updates that keep your iPhone restarting as iOS updates contain lots of fixes for software bugs and other problems.
See Also: How to Clear RAM and Speed up Your iPhone, iPad
There are ways to check any software updates are available. You need to select Settings-General-Software Update. If you find any updates by doing this, install it. Then connect your iPhone to your computer and make use of the iTunes to update the iPhone's software. If the complaint of restarting continues iTunes can give better results.
Step 3 – Check whether an App is causing your iPhone to restart: This can be a rare incident as generally software on your iPhone shields the system from apps that cause problems. There are numerous apps in the App store and all of them may not be perfect. If you have installed an app just before the iPhone restarts, uninstall this app and see if the problem is resolved.
To check the problem apps, you can go to Settings and usage data. You can see so many entries in the list. See whether any apps are listed two-three times then uninstall the app that is causing a problem.
See Also: How to Get Paid Apps for Free on iPhone Without Jailbreak
Step 4 – You can reset all settings: By doing this, you will be able to resolve some of the software issues. For this, you have to select Settings-General-Reset-Reset all Settings to restore your iPhone's settings to factory defaults. You will not lose any of your apps or data, but the Wi-Fi password should be entered again.
Step 5 – Remove Your SIM Card: There are chances that iPhones can stick in the restart loop when there is any problem with the connection to your wireless carrier. In that case, the SIM card to be removed from the SIM card connects your iPhone to your wireless carrier. Nothing goes wrong when the SIM card is removed. When you put back the SIM card the iPhone will immediately reconnect to your carrier. You can use a paper clip to remove the SIM tray from your iPhone.
If the problem resolves by putting the SIM card again, then put it back. But, if the problem persists by putting the SIM card you need to restore your iPhone to replace the SIM card with your carrier. Then don't put your SIM card back until the next process is completed.
Step 6 – Hard Reset: A hard reset on your iPhone is to be done only when you think it is absolutely necessary. It is like switching off a computer by unplugging it. If you really want to perform a hard reset, you have to hold the Power Button and the Reset Button simultaneously until the screen of your iPhone gets blank and the Apple logo resurfaces. You have to hold both buttons for at least for 20 seconds. For getting better results the only thing you have to hold both the above buttons simultaneously.
Step 7 – You Can Restore your iPhone Using iTunes: The operating system of your iPhone gets completely erased and reloaded when you restore your iPhone.It will eliminate a good number of software issues. Restoring eliminates the possibility of causing a software issue to your iPhone to restart. For doing this process, your iPhone has to be connected to a computer. You can refer Apple's support article which will be of good help if you have not done this so far. When the restore is finished it will be possible to reload all the personal information from your iPhone backup in iTunes
Step 8 – Do a Check for a Hardware Problem: Hardware problems can cause your iPhone to get stuck in a restart loop. If your iPhone is covered with a case, remove it before you continue further. You may look at the charging port on the bottom of your iPhone and check for any dirt or debris stuck inside that cause corrosion. If you find something abnormal, take an unused toothbrush and gently brush out the charging port. A short circuit inside the charging port can also aggravate the problem of restarting and other acute problems.
Step 9 – Whether it is necessary to repair your iPhone: We have discussed the possibility of Software issues and Hardware issues that can cause Restarting on your iPhone.Now, after following all the above, the iPhone is still restarting it needs to be repaired. You can approach the local Apple store and get an appointment for their service mechanic for the purpose of repairing with no extra money.
If all the above methods fail, you can proceed with replacing the old battery with a new one.
The above are some solutions to resolve your iPhone Restarting problems. Sometimes we can also see that something far from our expectations can fix a problem without much technical knowledge.
So, try the above if your iPhone encounters Restarting problems. It is quite important to backup all the data before attempting to fix any issues.