How to Clear RAM and Speed up Your iPhone, iPad? – If your iPad and iPhone touch, is running very slowly? Here, are three simple methods, which speed up iOS device easily without any difficulties. If you are accessing new versions of iOS devices, including iPhone 6s, iPad Pro, and iPhone 6s plus along with 2GB RAM capacity, make you feel the smooth performance. In fact, you no need to restart your iPad, iPhone at every time while you handle slow performance.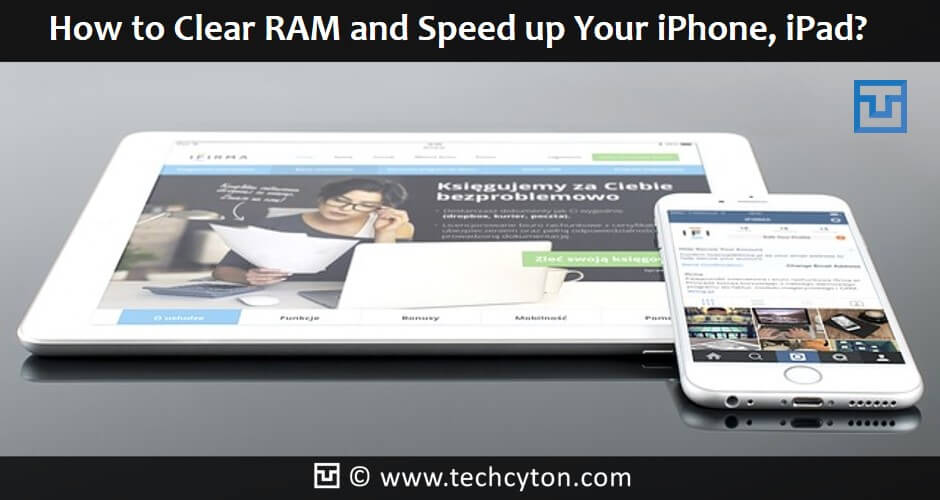 Previously, models of the iOS function like pretty due to its stunning resource management of iOS. Even though, you may experience that your device is slow down in the performance due to RAM that wants to clear out frequently without fail. Rather than restarting your iPhone and iPad device force to close here, some of the useful methods help you to clear RAM easily and make your device run quickly.
See Also: How to Set new Live Wallpapers to iPhone 6S and 6S Plus
Method 1: How to Clear RAM and Speed up Your iPhone, iPad?
The first method to clear RAM and Speed up your iPad, iPhone is you have to follow some of the instructions in order to perform the process correctly to get successful. You have to follow the guideline carefully without making single mistakes.
Step1 . Before you are going to start the process to perform clear RAM you have to ensure that your iPad, iPhone is unlocked.
Step2. After ensuring, now you have to press the power button until "Slide to Power off" messages appears on your device screen.
Step3. Now, press Home icon for minimum 5 seconds.
Step4. At last, your iPad, iPhone Ram will clear.
This is how simple and easy method, which guides you to clear your device, RAM as well as Speed up your Apple device. By following this method, you can easily clear out RAM from iOS. Hence, all junk files will vanish out automatically instead of force closing of your apps. In fact, it is the solid solution for all your iPhone related circumstances; however, it is certainly helpful for you when you feel your device performance is too slow.
See Also: How to Add Multiple Gmail Accounts to iPhone or iPad
Method 2: How to Clear RAM and Speed up Your iPhone, iPad?
The second alternative options for you when your iPhone is acquiring very slow, which means you want to free up memory space for it. Still, you get confused; here some of the simple and easy ways help you to get out from those kinds of problems. In order to clean your device memory on iPhone, iPad efficiently, you have to select the proper professional as well as effective iOS cleaners, which permit you to clean your iPhone, iPad RAM quickly. The appropriate tool is PhoneClean is the one the specialized tools keeps your iPhone, iPad clean as well as protect from certain issues. It is combined with twenty analyzing methodologies as well as neglects around thirty kinds of junk files.
See Also: How to Get Paid Apps for Free on iPhone Without Jailbreak
By clicking with a single touch, all entire unwanted files will clean up in order to boost up the speed of running iOS device. Furthermore, it offers functions app for Photo clean, Media Repair, backup as well as restore functions are also accessible and contact clean and more. Such as, you have to follow the below-mentioned instruction carefully and follow them properly. You have to download the PhoneClean application on your device. After download app on your device, successfully follow the remaining steps properly,
Step1 . Now, run the PhoneClean app on Personal Computer or else any Mac> instantly connect your iPhone, iPad to PC with the aid of USB cable> now Select Quick Clean> and Click the scan button for scanning purposes.
Step2. After scanning, simply choose the required items you need to clean and after choosing, the items now click the "Clean" options to free up the iPhone, iPad Memory.
Things to note:
However, Quick clean may clean iPhone other items present in a device such as temporary files, cookies, crash logs and more. It is a great helper for iOS 8.2 to clean junk files App. After reading the instruction carefully how to clean up memory on the iPhone, iPad now, you may find that this is the simple and easy method to clean your device memory in order to work faster with the aid of a PhoneClean app.
Method 3: How to Clear RAM and Speed up Your iPhone, iPad?
This is the third options that help to speed up your iPhone, iPad to run faster. An Apple device needs to maintenance frequently to keep the device to run faster.
Like the PC, the iPhone, iPad touch runs faster while you restarted the device. You have to try restarting options if anything goes wrong with your device, while after new updates or apps installed on your device. To reboot your device hold down the sleep button at the top of the device and while you observe, "Slide to Power off" to power off the device. When the dark screen goes, now press the sleep button once again to refresh.
Ensure free storage space on device:
It is necessary for you to ensure that your devices is having free storage space and since, iOS required some wiggle room in order to function your device. Simply, delete unwanted apps or items present in your device in order to increase the speed of your device. You have to check free space left on your device. To find click Settings> General > Usages for s summary of " Used " space as well as "Available" and a list of the app that gets more storage space.
Clear out app background frequently:
You have to clear up background app rapidly; in order to do these simply double-click on the home button for the multitasking dock. You able to observe used apps, now click, and hold one of those buttons until it begins to wiggling. Finally, tap red color circle on every app.
Hence, these are the 3 efficient methods to Clear RAM and Speed up Your iPhone, iPad to run an app faster. Simply follow these methods properly and never forget to share this post to your friends.