How to Use WhatsApp Online without Android Emulators? – In general, there are many methods are available on the internet to offer the path using WhatsApp on your PC however, required Android Emulator which is called as Bluestack. Currently, many users found they still now they are finding somewhat difficulties to install these kinds of emulators on PC so that they unable to use WhatsApp on PC. For a PC without an aid of graph car, it is not possible to install Bluestacks.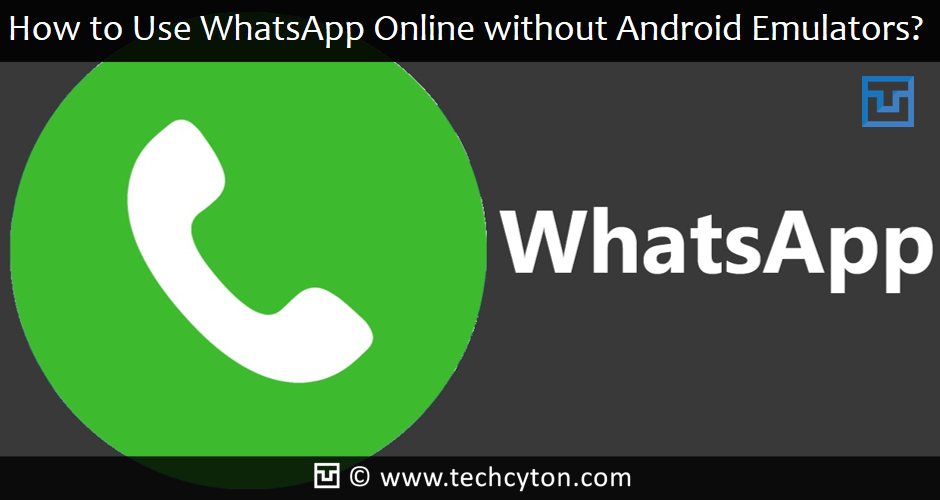 We know that WhatsApp is one of the foremost immediate messaging applications for Smartphone. In fact, WhatsApp is rapid along with the smartest messaging app only for Android, Blackberry, iOS and Windows mobile OS. When we use WhatsApp for PC with an aid of a bundle of emulators like YouWave and Bluestacks then it occupies a huge amount of space on your Laptop or PC along with it takes a large time to begin the application.
See Also: How to Add a WhatsApp Widget to Your Lock Screen
Method 1: How to Use WhatsApp Online without Android Emulators?
Manymo is one of an online emulator with the help of this emulator you can use WhatsApp online for free along with simple on laptop or PC. With an aid of this online emulator, you need not have to download bundle of software on your PC or Laptop to use WhatsApp. Instead of having a Smartphone such as iOS, android, and Windows OS you can use WhatsApp online directly for free on the internet browser. Here you can access multiple numbers of WhatsApps online free along with different numbers you have. Here is the simple and the step-by-step procedure help you install and run WhatsApp online of free applications on the browser instead of using YouWave and Bluestack.
Step 1: Initially, visit official website Bignox (Manymo Alternative) and create your account.
Step 2: After creating your account, sign up for a free account on Manymo website and check your account by clicking a mouse button on the registration link in your email account.
Step 3: Now, download Whatsapp.apk from valid official websites.
Step 4: After downloading, now click option "Launch Emulators" and choose Launch by App.
Step 5: click on the button Upload.
Step 6: Now, hit the launch button to start the emulation process.
The entire process completed successfully by using Manymo. It is the ideal way of using Whatsapp online free on Laptop or PC, whereas you can download free whatsApp online. Therefore, by signing up a free account on Manymo, you can download and access, use an android application on your Laptop and PC directly from your browser.
Method 2: How to Use WhatsApp Online without Android Emulators?
If you decide to avoid using android emulators like Bluestacks for using WhatsApp on your Laptop or PC, simply you can rely on Wassapp that helps you to stay tuned with your friends along with several features, which are available in WhatsApp application. In fact, Wassapp is not an official user of WhatsApp android messenger, where you can install the app on any windows Laptop or else PC and it is flexible to use. When you use this application on your PC, it is not necessary for you to use Graphic cars or else need to increase RAM memory capacity; in fact, the application offers you additional features compare to WhatsApp mobile app. Here, you can find easy steps to help you to install and run WhatsApp online of free applications in the browser rather than using an android emulator.
Step 1: The first step you have to download Wassapp software, and after downloading the software, install on your PC or Laptop.
Step 2: Once, if the application installed on your device, now it able observes two different options such as Login as well as the Register.
Step 3: If you use previously used WhatsApp on your mobile device and now you have to register, after registering, enter the mobile number as well as a password.
Step 4: After entering successfully, mobile number and password, wait for a moment until the application collects all your needed information. Now, you observe the chat screen and your contact list on the screen.
See Also: How to Install and Use WhatsApp on Android Tablet
For those who don't own an account on WhatsApp, recommended to download the applications on your mobile device initially and create an account. This is the easiest method to use the application on your PC or Laptop.
Method 3: How to Use WhatsApp Online without Android Emulators?
Still now, many people cannot afford those kinds of a Smartphone or else may need to use WhatsApp on their PC. It is possible for you to use WhatsApp on your PC with the help of android Emulators but it requires a huge amount of space and occupies lots of space on your PC. In order to overcome these problems, you can use unofficial WhatsApp such as Whatsapple. Here is the procedure helps you to install the software on your PC or Laptop to use WhatsApp.
See Also: How to Download Older Version of Apps in Android
Step 1: First, you have to download and install the Whatsapple software on your PC
Step 2: After downloading and installing the software successfully, now you need to enter your User and Password.
Step 3: For password, you need to generate one time and Whatsapp need one time registration process, so that for the first time generate the Whatsapp Password and open "Whatsapp Password Generator" from the Desktop.
Step 4: Now, please enter the mobile number and press "Request Code" button.
Step5: Now you receive a confirmation code on your mobile number and now type the verification code received in your text box.
Step 6: Now, click "Confirm code" button.
Step 7: New dialog box will appear in front of you that shows you the Whatsapp Password and ask you to enter it down, however, don't write it simply click on "OK".
Step 8: Once, if you obtain a username and Password open "Whatsapple for PC" Main .exe from the desktop.
Step 9: Now, click on Add and enter username and password to generate in a window. You also click "remember password" option so that, you no need to generate the password in every time when you sing in.
Step 10: Now click on add, and you can start chatting with your friends
Hence, these are the different approaches helps you to use WhatsApp online without using an android emulator on your PC or Laptops. These methods will be easy for you to install and access. Hence, follow these methods and gain the benefits.