BlackBerry Priv Full Specifications, Features, Price and Release Date – The release date of BlackBerry Priv came in early November this year. Priced for US $ 699.99 in Amazon.com, the new BlackBerry Priv is making news for all the good reason. With the idea of release date and price of BlackBerry Priv, let's see what makes this Blackberry smartphone different from other smartphones of the group by studying the specifications and features of BlackBerry Priv.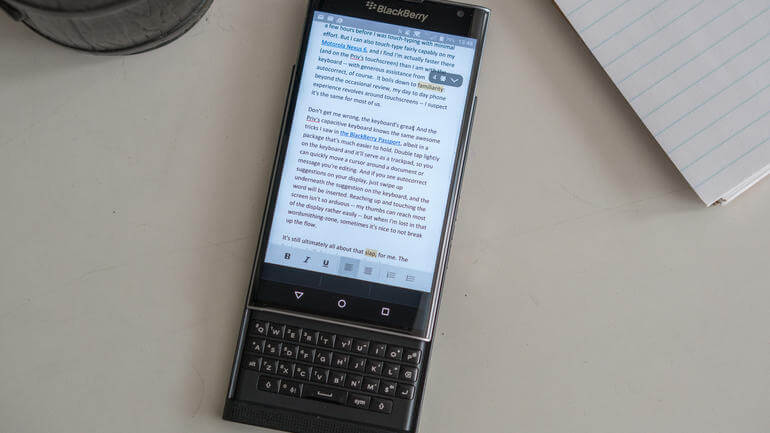 BlackBerry Priv Full Specification and Features
BlackBerry Priv is the first Android smartphone created by Blackberry and perhaps this is the reason that the world is anticipating BlackBerry Priv. BlackBerry Priv looks similar to Galaxy S6 Edge because of its curved screen edges. The 5.4-inch smartphone is made from woven carbon fiber to increase its durability.
Check Out: BlackBerry Priv Full Review and Rating
The smartphone has a strong grip because of the material used in it. The phone turns out to be bigger when the slider keyboard of the smartphone is exposed. You will be glad to know that the sliding keyboard is also firmly built and is optional. The design of BlackBerry Priv is suitable for all the business oriented people. The smartphone has an AMOLED display and a QHD resolution screen. The resolution of BlackBerry Priv is 2560 X 1440 pixels.
The curved edges of BlackBerry Priv display additional information. BlackBerry Priv runs on Android Lollipop and will receive Android 6.0 Marshmallow update soon. BlackBerry Priv is powered by Qualcomm Snapdragon 808 and six cores. The rear camera is good for photography as it is of 18MP whereas the front camera is a disappointment because of 2MP camera. Dual-LED is present in it. The 3410 mAh battery of BlackBerry Priv will make sure that you have a good battery backup and never run off battery even after continuous browsing. 3GB Ram of the smartphone will help in smooth multitasking. The internal storage of BlackBerry Priv is 32GB which can be extended by microSD card. The sensors present in BlackBerry Priv are Compass/ Magnetometer, Proximity sensor, Accelerometer, Ambient light sensor and Gyroscope.
The debut of Blackberry's Android smartphone named BlackBerry Priv is impressive, but it's hard to tell whether it will successfully compete in the Android market or not. BlackBerry Priv is designed to increase productivity and might not impress the common mass, but the same can't be said for the business oriented people. Let's wait to see how the people will welcome the all-new BlackBerry Priv. Are you a fan of Blackberry who wants to own BlackBerry Priv?