Microsoft Lumia 550 to be Launched With Windows 10, Priced at Rs. 9399 – Starting from December 23 is the sale of Microsoft Lumia 550 with Windows 10 in India for an amount of Rs. 9399. In the official website, Microsoft Lumia 550 is labelled as 'Coming Soon' but the price of Microsoft Lumia 550 is already confirmed by Microsoft. What's the best thing about Microsoft Lumia 550? Well, the answer is it will run on latest Windows 10 and apart from this, look at the price of Microsoft Lumia 550.
It is only Rs. 9399 and this price has made Microsoft Lumia 550 the cheapest smartphone available in the Indian market that will be running on Windows 10 OS. The 4.7- inch Microsoft Lumia will have Qualcomm Snapdragon 210 (MSM8909) 1.1 GHz quad-core processor.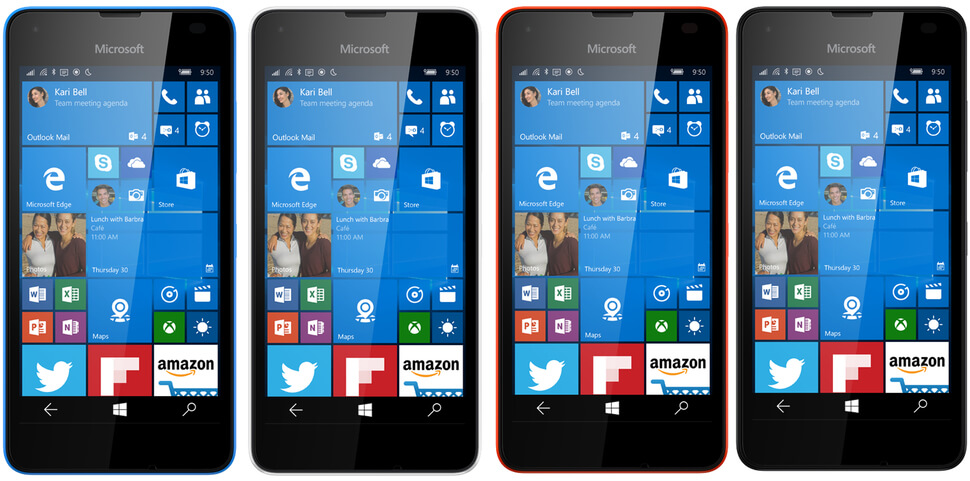 Though Microsoft Lumia 550 has the benefit of having the latest Windows 10 but still chances are there that it will lag behind in the Indian market of smartphones because of it 5MP rear camera and 2MP front camera. Other limiting factors of Microsoft Lumia is the availability of only 1GB RAM and 8GB mass memory. It will be interesting to see whether the customers of Indian market will overlook these limiting factors of Microsoft Lumia 550 for the latest Windows 10.
I would also like to inform the readers the exceptional features that will available in Microsoft Lumia 550 like Microsoft Edge Browser, Glance Screen, One Drive, Cortana digital voice assistant and revamped Outlook mail. I would advise my readers to jot down the both the positive and negative features of Microsoft Lumia 550 before order it on December 23 during the sale. Microsoft Lumia 550 promises its users to give them
A richer office experience
Work anywhere features, thanks to OneDrive
A true personal assistant behaviour by the phone because of the Cortana
Faster and smoother performance
Smooth multitasking
HD display
Powerful performance
New Microsoft Edge browser
4G LTE Connectivity
A battery up to 28 days standby time
The above-listed features are surely impressive. Let's see are these features enough for luring the Indian customers when many more smartphones are already flooding the market. If you are planning to buy Microsoft Lumia 550, I am sure you can think again about buying this phone. Don't forget to share the post if you know someone who is eagerly waiting to Microsoft Lumia 550 with Windows 10.