Motorola Moto 360 Sport Review and Rating – Motorola Moto 360 Sport is Android watch one of the latest Moto 360 line-ups. Basic Moto 360 was the first Android Smart Watch to be released on the Android platform, this exciting the Android lovers. Motorola even released the sequel version of Moto 360 with a title tag 'for women', but it did not add any exciting features.
And now the new Motorola Moto 360 Sport have been released with a new feature added, making it apart from all other android watches. It has been released with a price tag of $299 only. As the name itself says, this new version is released especially for sports buddies. Though it is not the best Android watch, it has an inbuilt GPS tracker and Heart rate monitor which count the calories burnt, it is much useful for runners rather than swimmers and cyclists.
Motorola Moto 360 Sport Review and Rating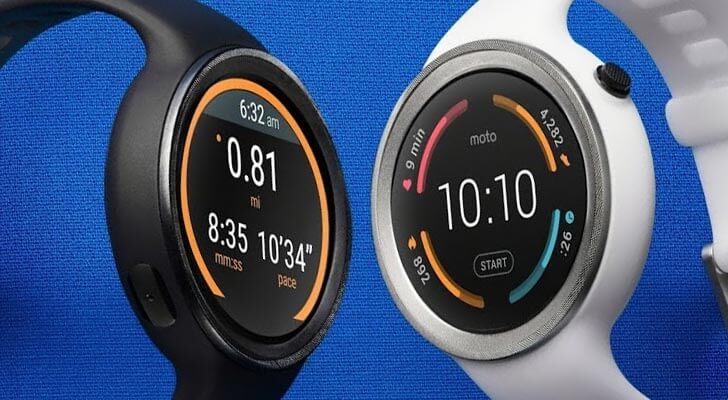 Body design and Display: Motorola Moto 360 Sport
Motorola Moto 360 Sport, as the name suggests it has a more sport look apart the previous Moto 360 versions. They don't provide any changeable bands, so you need to choose your best colour among Black, Orange and white colour bands. Among three colour bands, Orange seems to be funky and gives a better sports look, while black and white give the same decent look as the older versions. The band provided is made of a smooth and flexible material causing no irritation for longer use. The air vents in the middle of the band are good enough to wear the watch comfortably. You can barely feel the watch on your watch because of its design and material used. The only disadvantage of this material is that it attracts some dust on it, just some not more.
Check Out: Motorola Moto 360 Sports Full Specifications, Features, Price and Release Date
Motorola Moto 360 Sport's case is about 0.45 inches thick and measures 1.8 inches. It weighs 1.9 ounces, which is fair enough to wear for longer time periods. The silver bezel inside is always-on, 1.37-inch, 360×325-pixel LCD display. The screen display is visible at any light intensity even in bright sunlight, but its "flat-tire" effect cuts the screen horizontally from the bottom. It has got a better and good functioning light sensor which is quite adorable but its design application is not so adorable. The display is provided with a gorilla glass which gives a prismatic effect at the edges. This is one the backdrop of this portable gadget. The battery is not good enough when you switch on the light sensor, in order to get a good battery backup you can adjust the brightness level manually. It can be submerged into the water up to 3 feet under water. One can find out the depth it can be immersed with a 'waterproof tracker'. This feature is very useful for swimmers.
Features: Motorola Moto 360 Sport
Coming to the specifications of this device, it has got the replica features of that of regular Moto 360. Motorola Moto 360 Sport has a RAM of 512 Mb with an internal storage of 4GB and 1.2GHz Qualcomm Snapdragon. Moto 360 sport gives a pretty good performance. In addition to these, it has got a light sensor, accelerometer, GPS tracking, Gyroscope and Heart rate sensor. It lets to download apps, see and text the messages and play games through your phone. It can be paired to any device having Android OS 4.3 and above with built-in Bluetooth 4.0. You can even connect to other devices through Wi-Fi, but this feature is inactive for Apple users.
While running, it has four basic segments on your display, First showing time, your distance and pace. The second segment shows your original pulse rate and Heart rate zone. Third shows laps of your workout and final segment is meant to pause or resume the workout time. All these entries are saved to the Moto body app in your phone. At the end of your day, you can see the average calorie burnt, distance travelled, average heart and pulse rate and your running map with the help of GPS with an interesting graphical display.
Pros:
It has a good battery backup when its brightness is set manually.
No need to carry your phone during the workout, its GPS tracks each and every step you do and saves to your phone for further analysis.
Because of its water resistance, no need to bother of unexpected rain and sweat.
Got good display with impressive graphical representation.
Its 4GB internal storage can be used to store music, which reliefs you're during workouts.
Cons:
It is not worth of its cost.
It is inaccurate for longer distances.
Used only for tracking and saving your steps and workouts daily, nothing more than it.
According to a recent customer's survey, Motorola Moto 360 Sport can be rated 3/5 as per the cost, features and their performance. This which intends to an average rating for the price afforded.
The Motorola Moto 360 Sport is one of the best gadgets in Android field. All of the ratings obtained are because of its GPS and Heart rate sensor. If you are an athlete or swimmer and require the smart watch that suits your workouts, then Motorola Moto 360 Sport is not recommended. The Motorola Moto 360 Sport best suits for indoor workouts and mainly for the runners. Look for other smart watches which suit your purpose of use before buying this.
Summary
Reviewer
Review Date
Reviewed Item
Author Rating